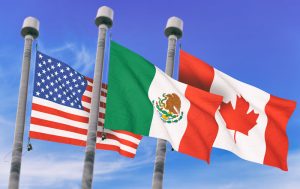 With the United States-Canada-Mexico Agreement (USMCA) to come before Congress in the coming months, Livingston International has lent its support to the USMCA Coalition, a group of like-minded businesses and industry associations that support the ratification of the trade deal and the promotion of free trade.
The coalition was announced on Feb. 26. Its mandate is to impress upon decision makers in Washington that the agreement is critical to the livelihood of businesses in numerous American industries.
The USMCA will support 11 million American jobs through the $1.3 trillion traded annually between the agreement's three signatory countries, among them two million manufacturing jobs.
The new trade agreement brings free trade in North America into the 21stcentury, incorporating standards and regulations for intellectual property and the digital economy, as well as the service economy – all of which are critical components of U.S. commerce.
As one of North America's largest and preeminent customs brokers and trade-services providers, Livingston International has been a staunch advocate of maintaining free trade from the outset of the NAFTA negotiations through to today. We believe businesses can grow and prosper best when they have access to source and sell products from other countries with as few barriers as possible.
We will continue to support the ratification of the USMCA and other trade agreements that contribute to opening international markets.
To learn more about the USCMA Coalition, visit www.usmcacoalition.org.
To learn more about how the USMCA differs from NAFTA and to download important documents and resources related to the USMCA and NAFTA, please visit our USMCA page.