Skip to content
Trade
Technology Integrated
assurance.
Trade technology offers ultimate integrated control. Sharper insights. Reliable compliance. Accurate documentation to clear borders without delay.
Highlights
Track performance data.
With our online solutions you'll capture the data you need. Improve supply chain decisions by tracking and analyzing performance trends over time for each imported product.
Scale control.
Flexible and scalable, our technologies align to your requirements. Control as much or as little of the import and/or export process as you want. Add Livingston apps as needed.
Stay compliant.
Our tools are designed for compliance excellence. Rules-based intelligence is built in to validate and augment data, increase documentation accuracy, and reduce customs clearance delays.
End-to-end trade technology.
Make your goods flow faster.
Agile supply chains depend on airtight compliance. Our scalable, adaptable, compliance-focused online solutions provide end-to-end management of every import and export process. The degree of our involvement is your choice: from full insourcing/self-filing of entries to total outsourcing.
Maintain electronic records
Analyze shipment and vendor metrics
Run scenarios on your imports and exports
Submit your information electronically
Complete your shipping documents
Livingston Portal.
Track. Identify. Connect. Collaborate.
Leverage our powerful trade-support tools to simplify, automate, and streamline.
Track patterns in your trading.
Identify issues that need attention.
Resolve and move on quickly.
Connect with Livingston reps and experts.
Collaborate on shared tasks.
Monitor vendor, carrier, and business performance.
Solutions to fit your needs.
No matter your business size.
Designed to fit your business needs and the role you play in the international trade process. We understand supply chain pain points and have solutions to address your needs.
Exporter/Seller
Generate Documents: Create your export shipping documentation
Screen for Restricted Parties: Screen your trade partners against more than 80 global lists
Self-file AES Declarations: Prepare and send your export declarations to the Automated Export System (AES)
Track Freight: Obtain freight-milestone status, status exceptions, shipment and port details
Driver/Carrier
Submit ACE and ACI eManifest: File your carrier ACE manifest for U.S. and ACI manifest for shipments into Canada
Track Customs Status: Get our mobile app and track the customs release status of U.S.-bound and Canada-bound shipments
Importer/Buyer
Calculate Landed Cost: Calculate your estimated duties, taxes, freight, transportation and insurance charges
Create Reports: Analyze shipment, vendor and carrier metrics through the lens of customs and freight
Submit Trade Data: Transmit your commercial invoice data to Livingston electronically
Review Documents: Maintain electronic recordkeeping in accordance with regulations
Track Freight: Obtain freight milestone-status, status exceptions, shipment and port details
Self-file ISF: File your Importer Security Filing to U.S. Customs
Manage Product Data: One automated and integrated app for all your product data. Update. Validate. Communicate.
Monitor Solicitation Projects: Gather and validate supplier origin eligibility data. Suppliers input directly to the app.
Mitigate Delays: Follow shipments via text or email notifications. Alerts flag exceptions/required actions.
Automate Payments:Pay with credit card, debit card, or make instant bank payments. Export account history. Get notified.
Self-file Lumber Permits: File your softwood lumber export permit to Global Affairs Canada for softwood lumber products originating in Canada.
Stay informed.
Track your goods on the go.
Whether you've got a dedicated dispatcher tied to a phone and computer all day, or you're an on-the-go owner/operator of a small business, Livingston's Shipment Tracker allows you to check the U.S. and Canadian border clearance status of your shipment in real time and receive status notifications for any shipment in-progress.
Go to Shipment Tracker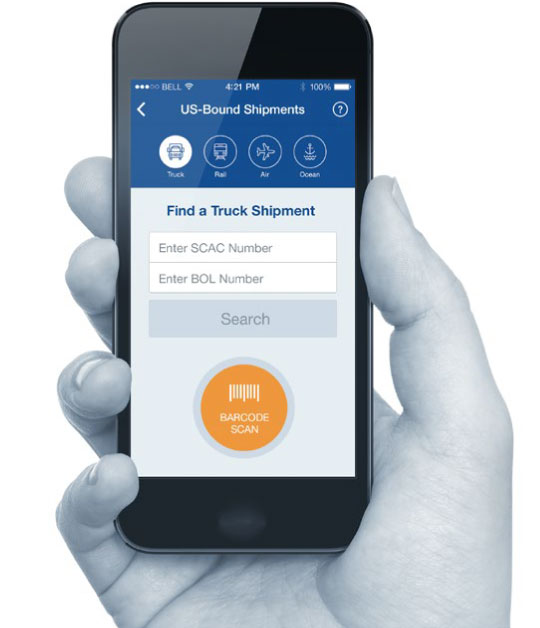 How can we
help you?
Getting a quote is easy. Simply tell us what you want, and a Livingston representative will be in contact to advise you on the most efficient way to accomplish your requirements.
We are available 24 hours,
7 days a week.
CALL 1-800-837-1063