The Comprehensive and Progressive Agreement for Trans-Pacific Partnership Implementation Act received Royal Assent on October 25th, 2018 and will enter into force on December 30, 2018.
The Minister of International Trade Diversification has established twenty new Tariff Rate Quotas (TRQs) and determined how they will be allocated for the 2018/2019 and 2019 TRQ years. The list of TRQs and the applicable Notices to Importers may be found at the bottom of this notice.
The Notices set out the eligibility criteria to obtain an allocation under each respective TRQ. The Notices also provide information on the process for submitting an application for an allocation. Application forms and related appendices are attached to each No
Applications for an allocation under the new CPTPP TRQs may be submitted to Global Affairs Canada by email. The applicable email addresses are identified in each Notice. The deadline for submitting an application is December 12th, 2018.
On an exceptional basis, in order to meet the established application deadline of December 12th, 2018 for the new CTPPP tariff rate quota, Global Affairs Canada has decided applicants are not required to submit an affidavit and accountant's letter.  Please note the exception applies solely to applications for CPTPP related TRQs for the 2018/2019 and 2019 TRQs year with an application deadline of December 12th, 2018.
In accordance with CPTPP, certain TRQs will be administered on different TRQ years, with some being based on a calendar year, and others on a dairy or marketing year. However, since the agreement is coming into effect as of December 30th, the quantity available to allocate in year 1 of each TRQ will be prorated on the basis of the number of months remaining in the applicable TRQ year.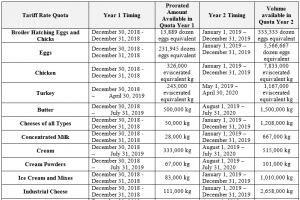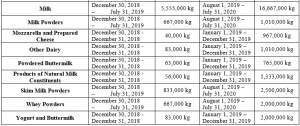 Please note that only products that originate from a CPTPP Party that has ratified the agreement may be imported under the CPTPP TRQs. As of December 30, 2018, allocation holders will be able to request import permits for products that originate in Australia, Japan, Mexico, New Zealand, and Singapore. As of January 14, 2019, allocation holders will be able to request import permits for products that originate in Vietnam. Global Affairs Canada will communicate with stakeholders whenever imports from another CPTPP Party become eligible for import under this agreement.
Please refer to the Frequently Ask Questions – CPTPP Tariff Rate Quotas web page for additional information on the new CPTPP TRQs.
If you have any additional questions, please submit them to the following email address: CPTPP.Quotas@international.gc.ca
List of Tariff rate Quotas and Notice to Importers:
Please contact your Livingston account representative should you have any questions.