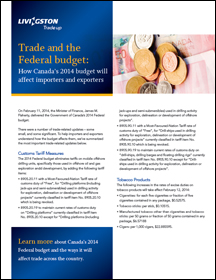 It's budget time again. Canada's Minister of Finance recently unveiled the country's 2014 Federal budget, and as always, there are several areas of the budget that will affect trade in Canada.
Turning an eye to oil and gas
One of the main trade-related aspects of the 2014 Canadian Federal budget is the elimination of tariffs on mobile offshore drilling units. Some of the units involved include drilling platforms, drill-ships, drilling barges and floating drilling rigs.
Tobacco excise duty rates on the rise
The budget outlines several increases in tobacco product-related duties, on cigarettes, tobacco sticks and cigars. Meanwhile, GST/HST will be zero-rated on eyewear that electronically enhances vision.
Food safety
The Canadian Food Inspection Agency has a big year ahead, and the 2014 Federal budget reflects this. The budget calls for the hiring of over 200 new inspectors and staff, the establishment of a Food Safety Information Network and the implementation of routine measures to minimize the spread of mad cow disease.
To find out more about how Canada's 2014 Federal budget will impact trade, download "Trade and the Federal budget: How Canada's 2014 budget will affect importers and exporters" today!