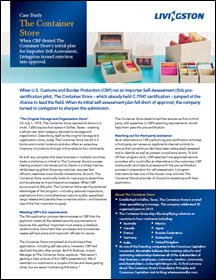 Curious about U.S. Customs and Border Protection's Importer Self-Assessment program?
Livingston can help.
What is Importer Self-Assessment (ISA)?
Importer Self-Assessment (ISA) is a program from Customs and Border Protection (CBP) that allows importers to assume responsibility for monitoring their own compliance. For companies with a large importing business, who likely already have significant resources dedicated to customs and trade compliance, ISA can improve efficiencies and reduce costs in the supply chain.
Livingston's Importer Self-Assessment services
The application process can be a challenge, and that's where Livingston's customs and trade experts can help. Livingston was one of nine service providers chosen for CBP's initial ISA pilot program, and we have dedicated resources in place to help companies like yours apply. We offer a complete ISA pre-certification evaluation package, and we can step in to help you focus on specific requirements as needed.
Helping companies achieve ISA status
To help you understand the process, we've prepared a case study featuring one of our key clients, The Container Store. The Container Store sources products from around the globe for its 63 U.S. stores and its online store, making them an ideal ISA candidate. But struggles with the application process led them to seek out assistance from Livingston.
Livingston's consulting group reviewed The Container Store's application and helped them re-apply – ultimately meeting all of CBP's requirements.
To learn more about CBP's approval process and how we helped The Container Store become ISA-certified, download our case study today!