This article was originally published in B.C. Shipping News on April 22, 2018.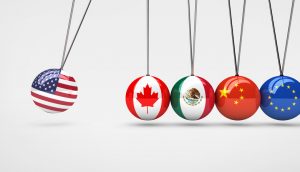 By Candace Sider, Vice-President, Regulatory and Public Affairs, North America
Canadian companies that rely heavily on cross-border or global trade could be forgiven for feeling somewhat anxious these days.
The world of trade has experienced profound disruption over the past 18 months. From the bankruptcy of sea carrier Hanjin and the subsequent revamping of sea carrier alliances to the initiation of anti-dumping and countervailing duties against Canadian softwood lumber, to the renegotiation of NAFTA, the tense talks over Brexit and the introduction of tariffs on steel exports to the U.S., it seems as though global trade is in constant flux.
Add to this a rise in trade protectionism in the United States and elsewhere and it appears there's scant cause for celebration. Yet, despite the constant shifts in the trade landscape, Canadian businesses have remained resilient and resolute in their trade activity. Exports have climbed steadily, peaking in May 2017 at $48.5 million — the highest monthly total in almost two generations — before dipping during the summer lull and bouncing back in Q4. Imports have been following a similar trend, hitting a record high of $50 billion in November 2017 before tapering off over the past few months.