This article featuring commentary by Mike Meierkort, President of International Freight & Transportation Services at Livingston International, was originally published in Issue 4, 2017 of Breakbulk Magazine.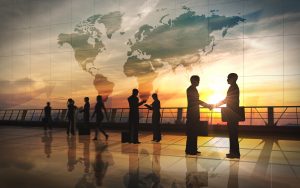 By Mark Willis
Following the political upheaval of the first half of the 20th century, the post-World War II period in Europe, the U.S., and much of the developed world has been characterized by a steady increase in economic interdependency and cooperation, with a steady rise in cross-border commerce accompanied and driven by multilateral, rule-based free trade agreements.
Economic globalization and collaboration, and support for the liberal economic reforms encompassed in the so-called Washington Consensus policy prescriptions, accelerated further with the end of the Cold War, leading to the establishment of the supranational World Trade Organization to promote seamless cross-border trade and capital flows.
As the world's largest economy, the U.S. has consistently been at the forefront of economic liberalization during this period, and the primary defender of rule-based global free trade.
In line with burgeoning globalization, recent decades have seen the establishment of increasingly complex project supply chains crisscrossing national borders, driven by wider multilateral free trade agreements and the integration of Asia's fast-growing economies into the global trading system.
Accompanying this trend has been a steady reorientation of assembly line, low value-added manufacturing from developed to rapidly industrializing developing markets, such as China, with a corresponding erosion of traditional blue-collar industry jobs in areas of the U.S. and Europe.
This status quo has been turned upside down over the last several years, however, with rising income inequality and widespread disaffection with globalization in communities most affected by lost manufacturing employment, resulting in a surge in populist political movements that now threaten to dismantle the post-War consensus with the return of protectionist trade policies.