This article was originally published in Recycling Today on Aug. 24, 2017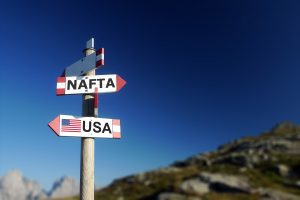 A poll commissioned by Toronto- and Chicago-based Livingston International Inc. indicates that many people in the United States see the North American Free Trade Agreement (NAFTA) as a contributing factor to the growth of the U.S. economy and the proliferation of high-skilled jobs during the past 20 years, and that they believe the focus of NAFTA negotiations should be modernizing the agreement, not withdrawing from it.
The poll was conducted online by the Harris Poll organization among more than 2,000 U.S. adults ages 18 and over. Results from the survey indicate Americans seem to have put the trade deal in context with broader changes that have taken place in the economy, and do not seem to single it out as a principal cause of economic adversity.
Despite sometimes heated rhetoric around the subject coming from President Trump and others, only six percent of Americans believe the U.S. should withdraw from the agreement altogether. Almost half of Americans (45 percent) believe the trade deal has greatly influenced growth in the U.S. economy during the past 20 years and more than half (57 percent) believe a withdrawal from NAFTA is likely to result in a price increase on everyday goods.
"These recent data suggest Americans hold a measured view of NAFTA and would like to see the government take a balanced and sensible approach in the NAFTA negotiations," says Daniel McHugh, CEO of Livingston International, a trade and freight consulting firm. "Americans recognize and understand that NAFTA has resulted in a variety of effects on the U.S. economy, most of which have been positive, and withdrawing from the agreement will likely lead to unwanted and unnecessary economic disruption."