Trade News / Freight and transportation updates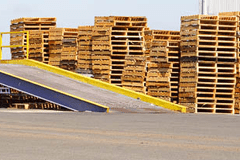 U.S. Customs & Border Protection (CBP) has issued CSMS 17-000612 advising, effective November 1st, they will penalize any documented violation of the wood packaging material (WPM) requirements, eliminating its previous policy of allowing up to five (5) violations before taking... Read more >
Import cargo volume at the nation's more than two dozen container port locations along the West Coast is expected to increase by 8 percent in April when contrasted with the same period in 2014, according to a new Global Port... Read more >
Although China is among the world's leaders in economic growth, few Canadian companies say they use the form of currency when trading with companies from the globe's most-populous nation, a new survey reveals.
Roughly 4 in 10 retailers and manufacturers intends to move their shipments from the West Coast to the East Coast, believing that doing so will increase the speed with which they can send and receive goods, according to a new... Read more >
Wholesale trade receipts in January slipped to $53 billion from December, based on reported numbers from Statistics Canada. In U.S. dollars, that's the equivalent of about $42 billion, The Wall Street Journal pointed out.
Labor negotiations between the Pacific Maritime Association (PMA) and the International Longshore and Warehouse Union (ILWU) have come to a grinding halt, as has shipment activity along the West Coast's 29 ports. But the government may soon be stepping in... Read more >
After early assertions that the West Coast port dispute wouldn't have a major impact on the flow of shipments, those promises seem to have gone by the wayside, as the International Longshore and Warehouse Union (ILWU) and Pacific Maritime Association... Read more >
Despite the recent plunge in the cost of oil, a Taiwanese shipping line became the latest to order so-called ultra-large container ships – fuel-efficient vessels designed for slow steaming with eyes on a future characterized by permanently high fuel prices. Evergreen Marine... Read more >
The Federal Mediation and Conciliation Service announced late Monday that in response to a joint request from the ILWU and the PMA, contract negotiations between the two parties will proceed under the auspices of the FMCS "as soon as possible."... Read more >
The Port of Oakland and its terminal operators are chipping away at their cargo backlog by running Saturday and Sunday gates, and the weekend gate program could remain in effect for another month. Oakland has moved more than 1,000 import... Read more >
Contract negotiations resumed Monday between the International Longshore and Warehouse Union and the Pacific Maritime Association after the holiday recess, but it appears that no significant progress will be made until both parties agree to compromise on the controversial issue... Read more >