Livingston tracker
Livingston's shipment tracking system allows you to locate and check the release status for your U.S. and Canada bound shipments.
For U.S. bound shipments:
For Canada bound shipments:
---
Notice
CBSA delays in Processing ALL EDI and Portal Messages
Please note that CBSA is receiving and processing EDI and Portal inbound data. However, there is a delay in sending outbound messages such as acknowledgements, reject messages and notices. E.g., RNS, Completeness Notices through EDI and Portal.
[Post updated:01-04-2019]
Track your shipments on the go!
iPhone users visit the AppStore for the latest update of the Livingston Shipment Tracker App. Get SMS/email notifications for PAPS and PARS. Bookmark shipments to easily track shipments. Receive Push app shipment status to save on SMS costs. Use the Alerts icon to see border and system updates.
Android update, coming soon!
[Post updated: 11-26-2018]
Detroit-Windsor Tunnel: closures for repairs and upgrades
In order to accommodate the support system for the new tunnel ceiling, the Detroit-Windsor Tunnel border crossing is enforcing a temporary height restriction of 10' 7'', until further notice.
Height restrictions will be lifted (reverted back to the height restriction of 12' 8") once the next phase of the tunnel ceiling renovation project is complete.
[Post updated 11-23-2018]
U.S. In-Bond process has changed.
Changes to the In-Bond process have a significant impact on the carrier community. To learn about the new regulations, download our FAQ.
[Post updated: 07-01-208]
CN's storage tariff changes
The Canadian National Railway has changed its storage tariff rates, effective May 15, 2018. Learn more here.
[Post updated: 05-01-2018]
---
If you're interested in learning about our carrier services or to become a Livingston preferred carrier, please view our business process services or contact us to learn more.
---
Track your shipments on the go!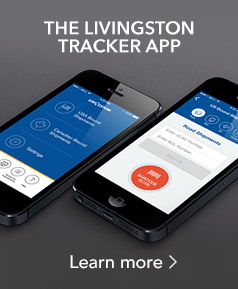 Introducing the Livingston Tracker App
The Livingston Shipment Tracker App lets you quickly and easily check the clearance status of your shipments through the U.S. and Canadian borders on the go, keeping you informed of your shipment's status no matter where you are!
Download now!
The Livingston Shipment Tracker App is available now. Click here to learn more about the app, or use the buttons below to download it on your platform of choice: