Wendy Archambault
President, North American Brokerage and Client Service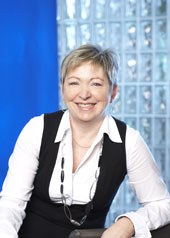 Wendy Archambault was promoted to President, North American Brokerage and Client Service in 2019 after serving as vice-president and later senior vice president of Livingston's Canadian brokerage operations for 13 years. As president, Wendy expands on her previous role, working closely with the executive team to consistently refine and execute operational strategies with an eye to optimizing the client experience for the tens of thousands of businesses across the continent that rely on Livingston's brokerage services.
Throughout her career, Wendy has spearheaded numerous process-improvement initiatives, using her natural people skills to help improve client experiences, client retention, employee engagement and overall business profitability.
Prior to leading Livingston's Canadian brokerage business, Wendy served as director, client services, responsible for both the Canadian brokerage and international freight forwarding operations in western Canada. Wendy has been with Livingston since 1980, when she started in the ocean department of Border Brokers, a company acquired by Livingston that same year.  She worked in many different departments, gaining the broad experience that qualified her to head up the western region in 1997.
Wendy is a licensed Canadian customs broker and has obtained the CIFFA (Canadian International Freight Forwarders Association) professional freight forwarder designation. Wendy serves as Livingston's official Qualified Officer with Canada Border Services Agency and is a member of the Canadian Society of Customs Brokers and Importer/Exporter Canada.